Lame as it sounds, one of the things that first inspired "How About Coffee?" {the short story that inspired
Fly Away Home
} was my love for the fashions of the 1950's. The whole culture was exciting, glamorous, and the perfect place to put a girl like Callie. But it all began with me loving red lipstick. I'm quite serious about this. I guess my love of red lipstick started with loving old movies and fashions and then it kind of blossomed from there. My own personal style is a sort of romantic-retro-chic and so all these bits all slid in without a problem. I knew when I started planning the Fly Away Home debut party that I wanted to include a post on Retro Makeup and I thought, "Why not make it a tutorial?" My younger sister, Anna, allowed herself to be commandeered for a model. She would like me to herein state that she did nothing with her hair so I could mess with it later. Hence the straw-man effect. ;)
(I may or may not have chosen her because she has perfect retro-lips. That's my one complaint about red lipstick on me: I don't have the "cupid bow" going on.)
First off, I'm going to give you a quick run-down on the basics of creating a retro look:
Matte eye shadows
Sleek, shaped brows (often darkened with a pencil)
Adventurous matte or creme lipsticks, mostly in reds, burgundies, and red-oranges.
Lighter face powder and blush - tanning was not what glamour-queens did on weekends
What you'll need to recreate this look:
A matte palette of eye shadow (I used Rimmel "Romantic Cool")
Black liquid or gel eye-liner
Black eye liner solid
Black mascara I use Rimmel "Glam Eyes"
Your usual face-powder/foundation (I have no idea what Anna uses. She came pre-powdered)
Lip balm of some sort to moisturize lips
Red/dark pink lip-liner
Red lipstick or color of choice (I went with Revlon "Fire & Ice" which is more scarlet than red)
Great! Once you've got all this stuff laid out, prepare your face or your model's face by applying the foundation/powder/blush etc. I ought to use this stuff but I don't. I can't imagine how expensive it'd be to keep adding facial products so though I will cave someday, I stick with eye-makeup and lipstuffs. I have good color in my face so blush isn't really important for me.
(We are discussing Anna, though)
(Nothing but face stuff right now)
I'd say the real key to a retro-look is making sure that all your makeup is matte-finish. They weren't so much into the glossy stuff in the 1940's and 50's. My Rimmel eye-shadow has a little glimmer in it, but I opted for that over my brown palette because Anna has a paler complexion and brown would wash her out too much. The "Romantic Cool" palette is more delicate and better suits her.
Apply your neutral tones to the eyelids as you would on a normal day.
Next, you are going to apply a careful line of the liquid eyeliner. This is a little trickier than it looks: toward the inner corner of your eye, make sure the line is super slender. Let it thicken toward the center and continue thickening till the very outer corner. Before continuing all the way to the very bottom corner of the eye, do a little flick for a "kitten-eye" effect. Now you'll use your solid eye pencil and outline the bottom lid, drawing into the liquid-liner flick.
Apply mascara freely to eyes. The thicker the better for the retro look! A good way to get the mascara to look thicker than it really is is to put an extra coat or two starting from the center lashes and heading back toward the outer edge. This gives it a "butterfly" effect that is essentially flirtatious. ;)
Eye makeup finished!
Next step on the tour is the lips! Moisturizing your lips before trying to apply liner will save you a ton of headache. Once you've done that, outline your lips. Obviously for Anna, I didn't have to go outside of her lip line, but if you don't have a nice "cupid-bow" you can very slightly tease the shape out of your lips by drawing your "peaks" just a little bit higher than what is natural. Changing your lip-shape is a risky business so go very slowly; lip-liner doesn't like to wash off. :)
Once you have applied the red lipstick, kiss it off once or twice on a paper towel to insure it doesn't travel, and you're good to go with your silver-screen glamour-queen look!
Fun Fact: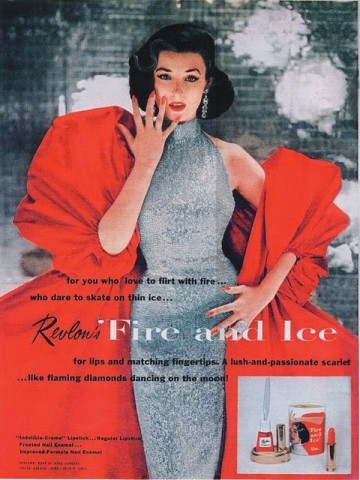 Revlon launched an adventurous lipstick campaign in 1952 (the year in which Fly Away Home takes place!), catered toward "...you who love to flirt with fire...who dare to skate on thin ice...". The campaign was called "Fire and Ice" and was a hit. In face, "Fire and Ice" is one of the specific shades of lipstick Callie uses in Fly Away Home and guess what? They make a version of it today. In fact, that is what I used on Anna for the tutorial. Would you like to win a tube of Revlon "Fire and Ice" lipstick to bring out your inner glamour-girl? Leave a comment with your email address and at the end of the week, Anna will draw one name out of the lot to win a tube of that "famous" lipstick!
On the same topic of giveaways, there is certainly still time to enter the giveaway to win 2 autographed copies of
Fly Away Home
here on the Inkpen Authoress
, and I am pleased to announce that
Leah E. Good
reviewed and is giving away a copy of my book on her blog! Lots of things to win, darlings! Don't you want to try?